Our Location and Transport Links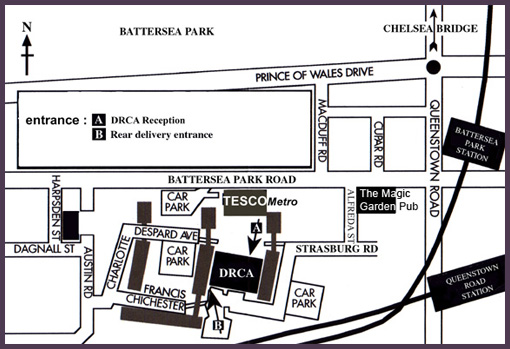 Address:
Hirewoodworkspace.co.uk
(JFL Design,Office Unit 54)
Unit 4 & 39, DRCA Business Centre,
Charlotte Despard Avenue
London SW11 5HD
Contact: Fraser Lee (intercom 54)
Tel: 020 7498 1550
Mob: 07970 859455
Delivery Bay
Our Delivery bay location on Google Maps
Grid ref: 51.4734780, -0.1524410

QR Code for UK Grid reference above:
Transport Links:
1. Overground Rail Stations: Battersea Park, Queenstown Road
2. Local buses: 45, 344, 137
3. Car: Turn off Battersea Park Road at the Magic Garden Pub into Alfreda Street, at the junction with Strasburg Road turn right, and follow the road round to delivery bay.
4. Parking is free parking on the roads on the estate (do not park in resident parking bays) or 60 minutes free in the Tesco Metro car park.
Business Centre Facilities

1. Staffed Business Centre Reception 9.00am to 5.30pm
2. 24 hour access to work space with your own key.
3. Delivery bay is at the rear of Business Centre.
4. CCTV in operation within the Business Centre
5. Fax, and broadband by arrangement.
6. Business Centre toilet facilities.
7. Local Supermarket (Tesco Metro) 100m
8. Rubbish Recycling